SMARTER-Green Homes for a better and healthier future
SMARTER Goals
Horizon 2020 funded, SMARTER initiative began in 2019 with the aim to promote the financing and building of green homes. The goal of the SMARTER initiative was to secure financial institutes and residential developers to create and launch a co-designed green mortgage product for new property acquisition. 17 organizations in 12 European countries came together to improve people's quality of life, protect the environment and encourage financing of green projects through a multi-faceted plan.
To find out more about the SMARTER initiative, please, have a look at our comprehensive, downloadable document.
As of November 2022, over 31,437 new homes have been certified or under agreement to be certified green through SMARTER's partners in Ireland, Czech Republic, Poland, Italy, Romania, Morocco, Indonesia, Brazil and Colombia. These homes represent a collective total project value of over 8,560,000,000 Euros! These numbers will continue to expand as our additional country partners have launched their program. The SMARTER initiative aims to drive change in the finance and green certification of new sustainable homes.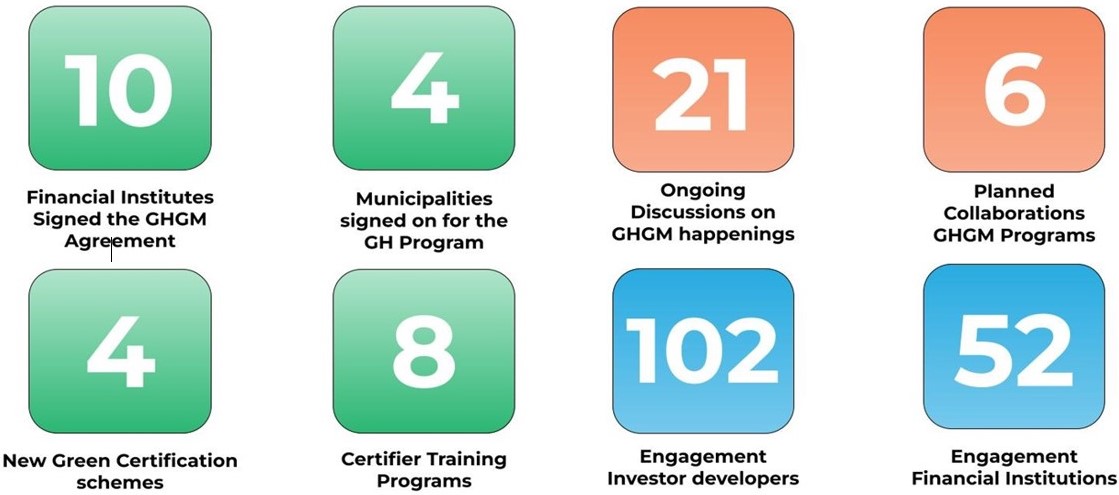 The SMARTER initiative has achieved great success in engaging financial institutions and gaining their commitment to provide green mortgages and green development loans. The SMARTER initiative has also had tremendous success in attracting residential developers and creating various tools for financial institutions, residential developers and the public to promote the creation and buying of green homes.
SMARTER Partners
Since the launch of the SMARTER initiative, we have welcomed five new partners. Bringing the total number of partners to 22 countries, the SMARTER initiative,  green finance for green homes,  is now getting implemented in Colombia, Brasil, Morocco, Indonesia and the Republic of Moldova. We are delighted to see that the SMARTER initiative has spread outside of Europe and its great benefits will be enjoyed by people all over the world. We are excited to welcome more new  partners and make green homes affordable  for more people
The SMARTER initiative was created through the collaboration of 17 expert green building, green energy, research and other organizations across the world.
Our partners RoGBC, Irish GBC, CZGBC, GBC Italia, GBC Brasil, Colombia GBC, Morocco GBC, and Indonesia GBC will use their existing certification as the qualifying mechanism for the green mortgage product in their countries. Other partners PLGBC, SKGBC, Green Council BiH, UEUA have recently developed their own Green Home & Green Mortgage certification and product in their countries. Partners such as CRES, People in Need, EnEffect, EEC Georgia are developing programmes through green loans for renovation with a focus on overcoming energy poverty.
Copenhagen Centre on Energy Efficiency (DTU) and Universite Libre de Brussels act as expert advisors to the project. More technical expertise from SMEs TURKECO, ENOVA and CRISCON have applied their experience and knowledge for research findings and reporting to develop a world-class GHGM programme that aligns with EU CEN standards and EU taxonomy for sustainable finance.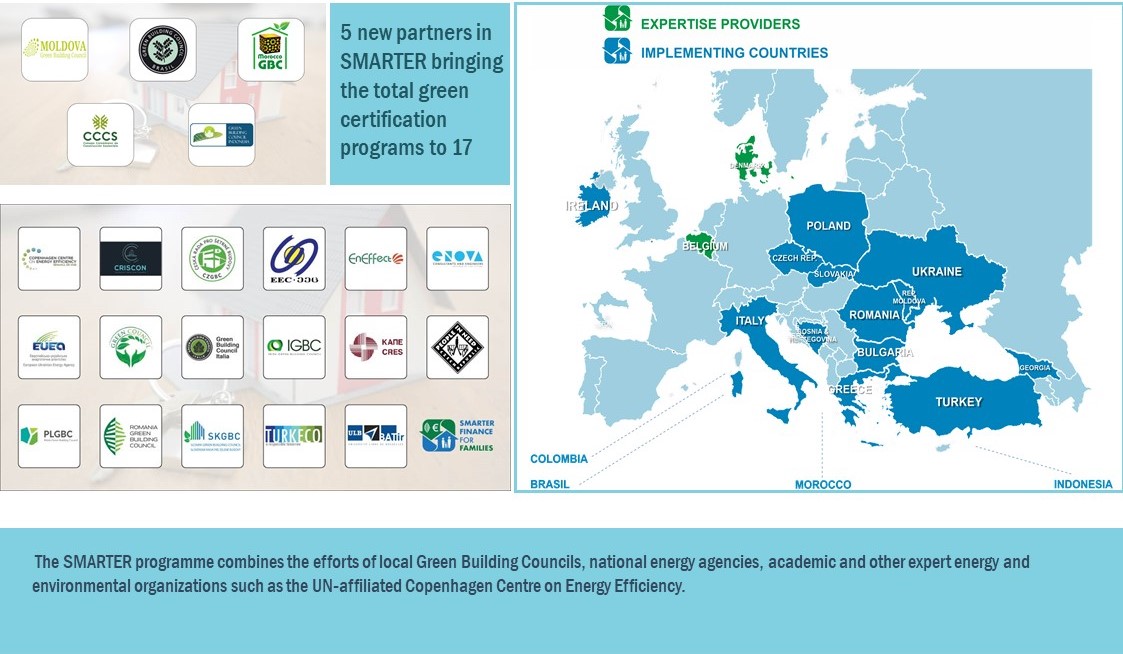 Through the SMARTER Finance For Families project we bring an innovative and systemic solution to a systemic problem. We are creating significant opportunities for the finance and building industry to deliver the green performance we need for Europe's citizens and their home"

– Steven Borncamp, Project Director of the initiative
| | |
| --- | --- |
| | The project has received funding from the European Union's Horizon 2020 research and innovation programme under Grant Agreement No. 847141. |