Lar España Real Estate Socimi, SA has issued a senior unsecured green bond that will be listed on the Euro MTF market of the Luxembourg Stock Exchange. The proceeds of €400mn issuance will refinance real estate assets to reduce its carbon footprint and convert them into environmentally friendly assets that meet the criteria of the 2021 Green Bond Principles issued by the ICMA ('International Capital Markets Association').
The issuance was over 4x oversubscribed allowing the firm to strengthen it's cash flow structure. The bonds have a fixed annual coupon of 1.750%, compared to the 2.9% set for the bond issued in 2015. Fitch has assigned a BBB investment grade rating to both Lar España and the €400mn issuance.
The green bond issuance will enable improved levels of liquidity, with debt deferred over time around 40% of asset value. With a FY 2020 dividend payment of €27.5mn paid, the company's balance sheet cash amounted to €165.5mn at the end of Q1 2021. That figure covers the company's expenses and financial costs for at least the next four years. At the same time, Lar España has balanced the structure of its debt between secured and unsecured, maintaining interest at mostly fixed rates and in euro currency, underpinning the ability to pay a recurring dividend
Lar España has also launched a public offer to buy back €140mn in senior secured bonds issued in February 2015 and maturing in 2022. The bonds trade on Euronext Dublin on the Irish Stock Exchange. The repurchase will allow the company to reduce the average cost of its debt, which is currently 2.2%, to 1.9% and extend it's average maturity from 2.6 to 4.9 years.
Link to resource
Download source
Share this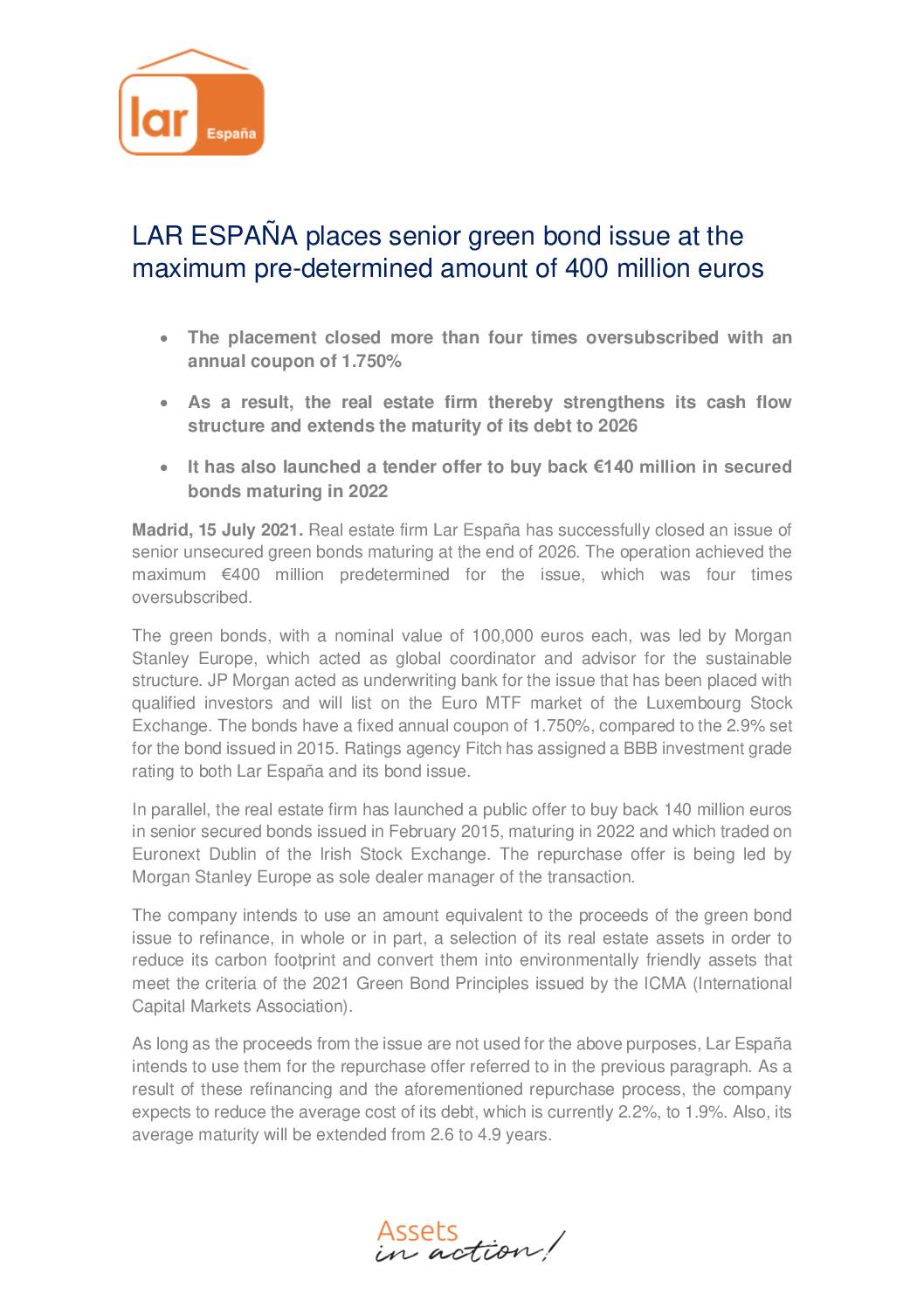 Sectors: Buildings, Finance
Country / Region: Europe
Tags
:
balancing
,
Banks
,
bonds
,
capital markets
,
carbon
,
carbon footprint
,
citizens
,
debt
,
economic capital
,
economic cost
,
green bonds
,
Industry Regulators
,
Institutional Investors
,
National Regulators
,
SMARTER
,
Supranational Regulators
,
trade
In 5 user collections: Green Home Investment Platform – Industry Regulators , Green Home Investment Platform – National Regulators , Green Home Investment Platform – Supranational Regulators , Green Home Investment Platform – Institutional Investors , Green Home Investment Platform – Banks
Knowledge Object: Web Resource
Author: Luxembourg Stock Exchange; Lar España Real Estate Socimi SA (Juan Carlos Burgos, Elena Torres)