Saint-Gobain joined the UN Global Compact's "Business Ambition for 1.5°C" and committed to achieving carbon neutrality, or net-zero CO2 emissions, by no later than 2050. The company will reduce its carbon emissions to a maximum by 2050 and employ measures to absorb any residual emissions along with 2030 Targets which include:
Reduction in direct and indirect CO2 emissions (Scope 1 and 2) to 9mn tons, i.e., of 33% relative to 2017;
Reduction in its Scope 3 CO2 emissions of 16% in absolute terms, for all relevant categories for the entire company, compared to 2017.
In 2019 the company achieved a 14.5% reduction versus 2010 positioning the Group to meet its 2025 target. The reduction targets for 2030 reflect the company higher degree of environmental ambition. Saint-Gobain continues to accelerate and deepen its ambitions in line with its target to become carbon neutral by 2050.
The company develops solutions to improve the energy efficiency in buildings, and solutions with a reduced carbon footprint designed to replace traditional, more carbon-intensive heavy building materials across the construction sector.
Link to resource
Download source
Share this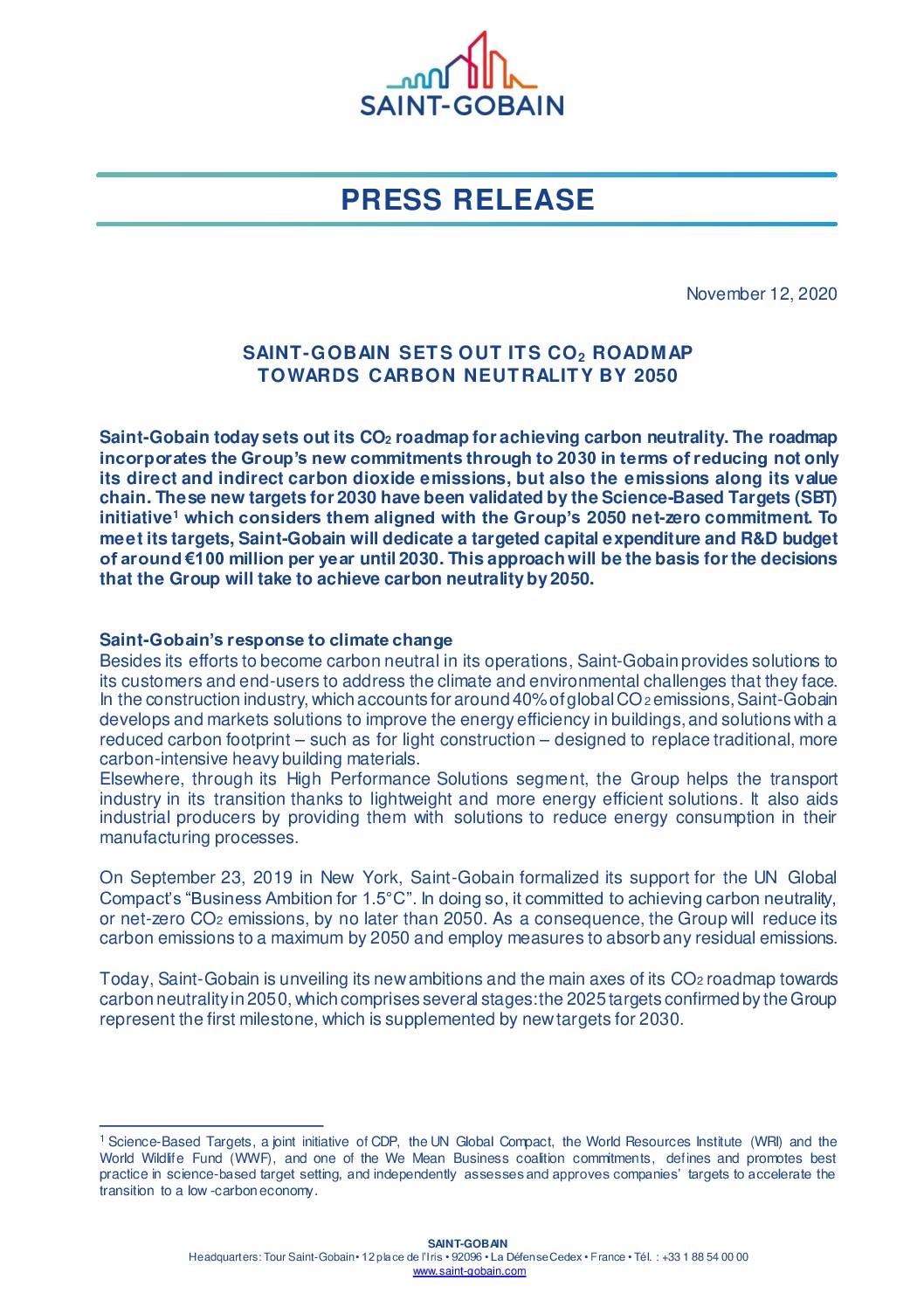 Sectors: Buildings, Finance
Country / Region: Europe
Tags
:
Banks
,
carbon
,
carbon footprint
,
carbon intensity
,
carbon neutral
,
citizens
,
efficient construction of buildings
,
emissions
,
energy
,
energy efficiency
,
Industry Regulators
,
Institutional Investors
,
National Regulators
,
SMARTER
,
Supranational Regulators
,
targets
,
United Nations
In 5 user collections: Green Home Investment Platform – Industry Regulators , Green Home Investment Platform – National Regulators , Green Home Investment Platform – Supranational Regulators , Green Home Investment Platform – Institutional Investors , Green Home Investment Platform – Banks
Knowledge Object: Web Resource
Author: Pernot, Laurence; Marie, Patricia; Trabitzsh, Susanne