Miloš Blanárok and Katarína Niňajová with the financial company of Prvá stavebná sporiteľňa presented their take on funding options at improving the construction quality and energy balance of buildings in order to achieve long-term sustainability. "At each of the planned building investments, we should focus on 3 key goals – healthy, safe and non-conflicting use of the building. It does not matter whether the building is residential, administrative, commercial or a production facility – or a combination thereof. The swiftest and simplest achievement of the goals should be the main motto of the product offer of banks – in particular, at residential buildings." They also presented examples of solutions supporting and favouring the investments into environmentally sustainable property: "Our bank provides more than two thirds of loans for house and apartment house reconstruction. In current situation, with at least 300 thousand apartments and over 500 thousand houses still to be reconstructed and less than 20 thousand new apartments built each year, this is a significant role we play in reducing the climate change impacts. Renovation is important for prolonging the lifetime of residential property, as well as reducing the emissions by improving the energy balance of the apartment houses. If the owners or investors prepare a really complex reconstruction plan, it is more expensive – which our bank compensates by lower loan interest rates." As a specific case study, we present the first apartment house reconstructed to meet the low-energy building standards, including the use of alternative energy sources (heat pumps and photovoltaics), and fauna preservation measures – nesting spaces for bats and swifts. The house is in P. Horova Street in Bratislava and we provided 50 % of the funding in a PSS, a.s. loan.
Download source
Share this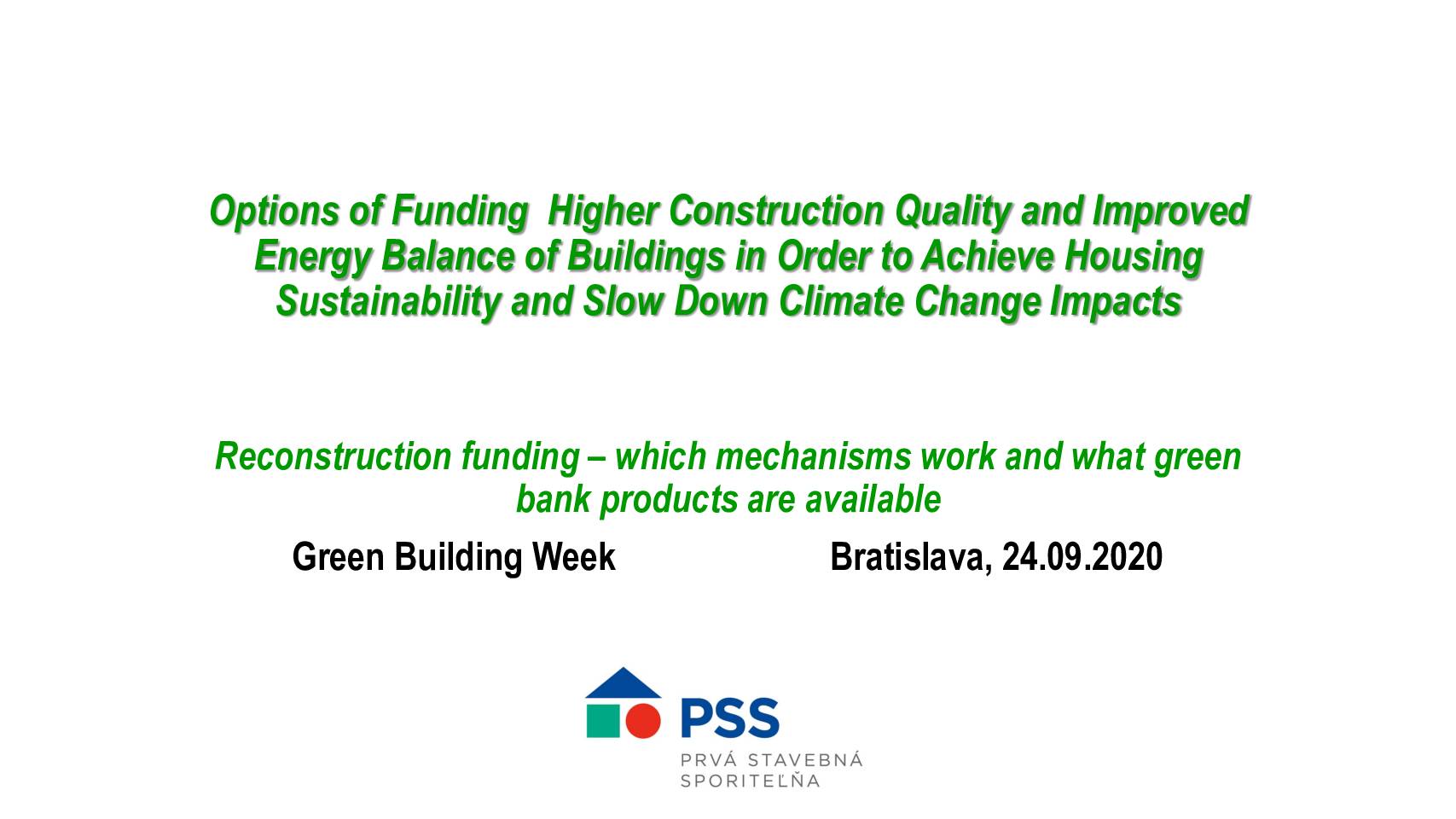 Sectors: Buildings, Finance
Country / Region: Slovakia
Tags
:
climate change
,
climate change impacts
,
efficient construction of buildings
,
emissions
,
energy
,
funds
,
loans
,
residential buildings
,
SMARTER
,
solar photovoltaic
,
sustainability
In 1 user collection: SMARTER – Downloads
Knowledge Object: User generated Initiative
Published by: Prvá stavebná sporiteľňa, a.s.
Publishing year: 2020
Author: Miloš Blanárok, Katarína Niňajová