The Covid-19 pandemic has accelerated the switch between traditional office-working and flexible working solutions. In 2017, The European Commission published that around 10% of people were working from home, while in June 2020 between the 30% and the 65% were working from home full-time. The urgency of meeting climate targets by 2050 requires to cut by 40% the energy consumption in buildings. In the post-pandemic world, even if office-working will return to be more relevant, flexible hybrid solutions are likely to stay. The design and operation of office buildings will have then to adapt to new working habits, while becoming more energy-efficient, given the stricter climate targets that the post-pandemic world is facing.
Automation plays a key role in creating flexible design and achieving energy-efficiency whilst maintaining adequate levels of occupant comfort and well-being, which includes also the minimisation of contagion risk. However, the disruptive advent of the pandemic and extreme climate events has shown that the design of office buildings is not enough responsive and automated. For instance, during the first wave several buildings were still consuming large amount of energy despite the low level of occupancy. In addition, office buildings will have to re-adapt in short time-scales to an even more variable occupancy than before the pandemic.
This paper presents data from occupant satisfaction in office environments with and without automated controls before and after the Covid-19 pandemic in order to give evidence of the importance of occupant-centered building controls and indoor environmental quality in the post-pandemic office. Offices in post-pandemic world will need to devise an optimal occupancy distribution for both controlling Covid-19 infection risk and energy consumption whilst maximising occupant satisfaction. Flexibility, responsive design and the use of occupant-centered automated building technologies will need to become a core design principle in order to achieve occupant health and carbon neutrality.
Download source
Share this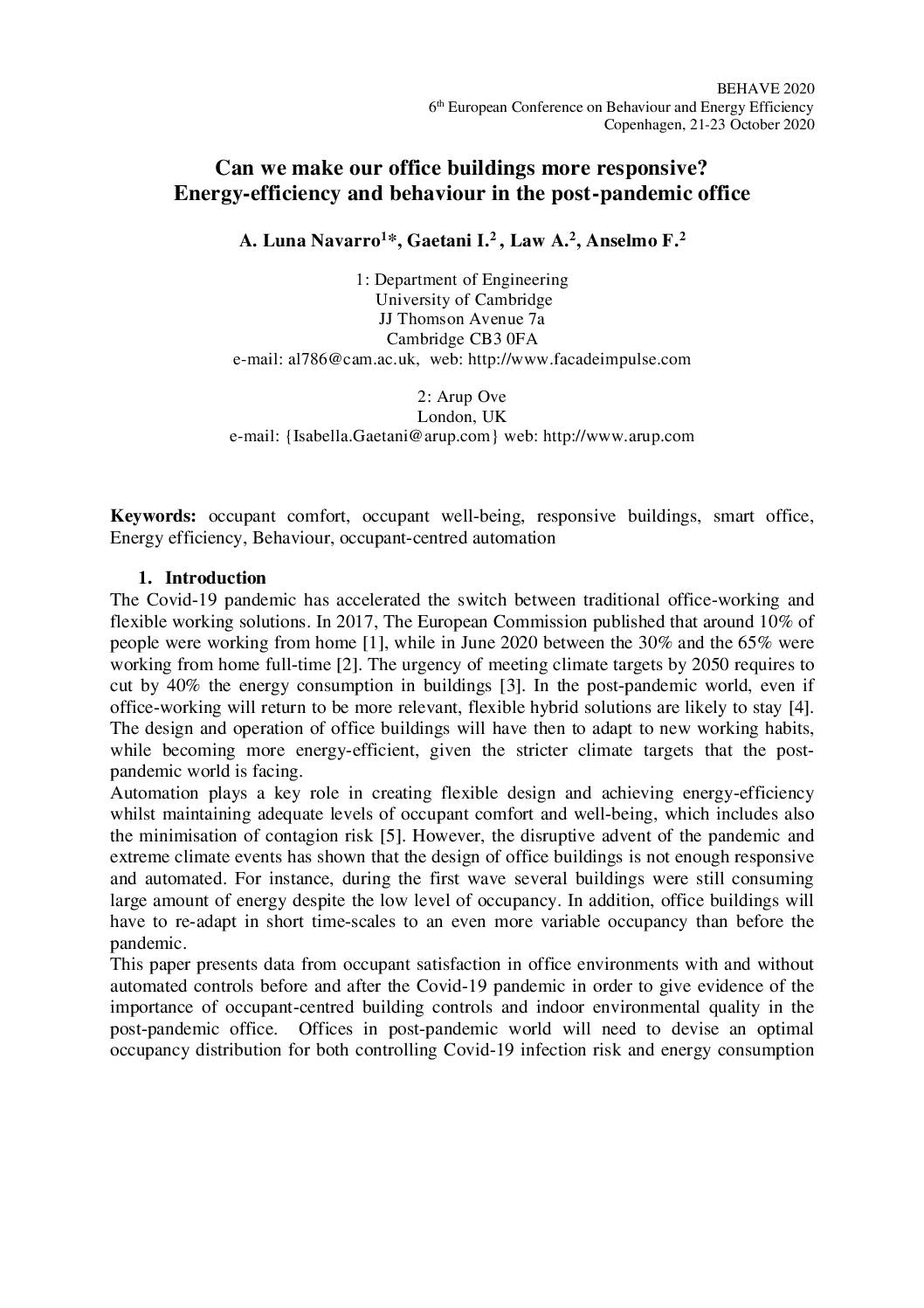 Sectors: Buildings, Cross cutting
Country / Region: Europe
Tags
:
carbon
,
climatological variables
,
economic variables
,
energy
,
global climate
,
health sector
,
human health
,
paper production
,
risks
,
targets
In 1 user collection: Session 5b: Multidisciplinary approaches to energy behaviours for achieving the SDGs
Knowledge Object: Publication / Report
Publishing year: 2020
Author: A. Luna Navarro, Gaetani I. , Law A., Anselmo F.
Content: