Polish Green Building Council announces cooperation with Polish Association of Developers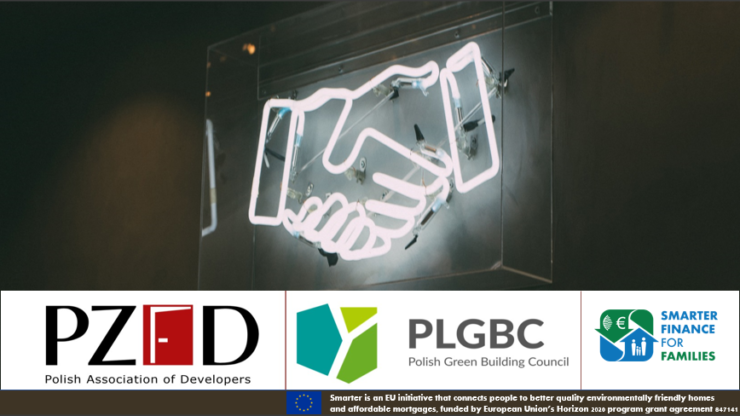 The Polish Green Building Council (PLGBC) and the Polish Association of Developers (PZFD) signed a cooperation agreement to promote the first Polish Green Certification for residential buildings, Zielony Dom, developed by PLGBC within the SMARTER Finance for Families project. The common goal of both organisations is the development of a sustainable approach to residential construction. The agreement paves the way for a new chapter for housing construction.
Grzegorz Kiełpsz, President of the Polish Association of Developers stated
"The growing awareness of homebuyers, the growing concern for the environment and the emphasis we put on the quality of our homes required a formalisation of the rules and criteria based on whether a building meets the highest requirements we want to set for our projects.

I am convinced that promoting the idea of certification by such significant organizations will allow companies that decide to apply for the Zielony Dom certificate to gain a considerable competitive advantage by emphasizing innovation and high quality and will help to gain the trust of homebuyers"
Through the establishment of the partnership, PLGBC and PZFD spotlighted the need for joint initiatives for the development of green construction, especially in the context of a sustainable future. PLGBC's expert Dorota Bartosz presented a webinar on the Green Homes Green Mortgages program which clarified certification criteria and areas, plus benefits for investors and developers.
The agreement is a major milestone in the implementation of the 'Green certified Homes and Green Mortgages' program in Poland. The SMARTER Finance for Families is an international initiative to implement and grow Green Homes and Green Mortgage programs in 12 European countries. The program utilizes ambitious green building standards aligned with European Commission's DG Environment's Level(s) framework for green building certifications and is supported by DG Energy's Executive Agency for Small and Medium Enterprises (EASME) with a Horizon 2020 research grant (no. 847141).
Polish Green Building Council (PLGBC) is one of the implementing partners of SMARTER Finance for Families. As part of the project, PLGBC is working on developing its own multi-criteria certification system for homes Zielony Dom and on establishing cooperation with financial institutions that will launch green mortgages for Zielony Dom homebuyers.
Share this
Sector: Buildings
Country / Region: Poland
Tags
:
efficient construction of buildings
,
grants
,
implementation
,
innovation
,
international development
,
milestones
,
partnerships
,
projects
,
residential buildings
,
SMARTER
,
sustainable livelihoods approaches
In 1 user collection: SMARTER initiative in action
Knowledge Object: User generated Initiative