Climate change is one of the greatest threats humanity faces today. At the UN Climate Action on Summit in September 2019, 66 countries and over 100 cities es pledged to be carbon neutral by 2050. As of May 2020, the UN Framework Convention on on Climate Change (UNFCCC) platform on climate change actions had registered climate change actions by over 10,000 cities around the world. This commitment complements the 2030 Agenda for Sustainable Development, adopted by all United Nations Member States in 2015, which provides a shared blueprint for peace and prosperity for people and the planet, now and into the future.
At its heart are the 17 Sustainable Development Goals (SDGs), which are an urgent call for action by all countries – developed and developing – in a global partnership. Through the SDGs they recognize that ending poverty and other deprivations must go hand-in-hand with strategies that improve health and education, reduce inequality and spur economic growth – all while tackling climate change and working to preserve our oceans and forests.
The global urbanization rate reached 55 per cent in 2018, and UN projections indicate that by 2050 the rate will increase to 68 per cent, adding another 2.5 billion people to the global urban population. Ninety per cent of urban population growth is expected to take place in Africa and Asia (United Nations, 2019). People move to cities searching for job opportunities, higher quality of life and greater access to public services such as healthcare and education.
Energy efficiency (EE) can bring multiple benefits to municipalities, including saving energy and costs, creating local jobs, reducing local air pollution, improved indoor comfort and productivity and better health for local people. The International Energy Agency (IEA) calls EE the "first fuel". It is the top line principle of the EU's Clean Energy Package and Energy Union Governance Regulation. It is often identified as the cheapest mitigation option and cleanest fuel. It is natural for society to expect municipal governments to lead with EE actions in their activities.
Against this background, the Copenhagen Centre on Energy Efficiency (C2E2) has been focusing its recent work on EE improvements in developing countries and municipalities, with numerous activities and initiatives being undertaken in the various regions. One of these is accelerating and scaling-up the implementation of EE improvement projects and programmes. C2E2 aims to provide streamlined, structured and aggregated expertise on technical and business model aspects related to the development of and investment in EE projects and initiatives. C2E2 can assist municipalities, as well as other interested parties, with technical support to implement EE interventions by bundling projects from different locations with similar context and within specific thematic areas through the "Project Bundling" approach. The technical assistance is provided by international energy experts with knowledge and experience of EE project implementation in all regions. C2E2 can thus help to develop project ideas, which can be developed into a feasible investment-grade project, as well as a vast variety of resources to increase local capacity for project assessment, design and implementation.
Download source
Share this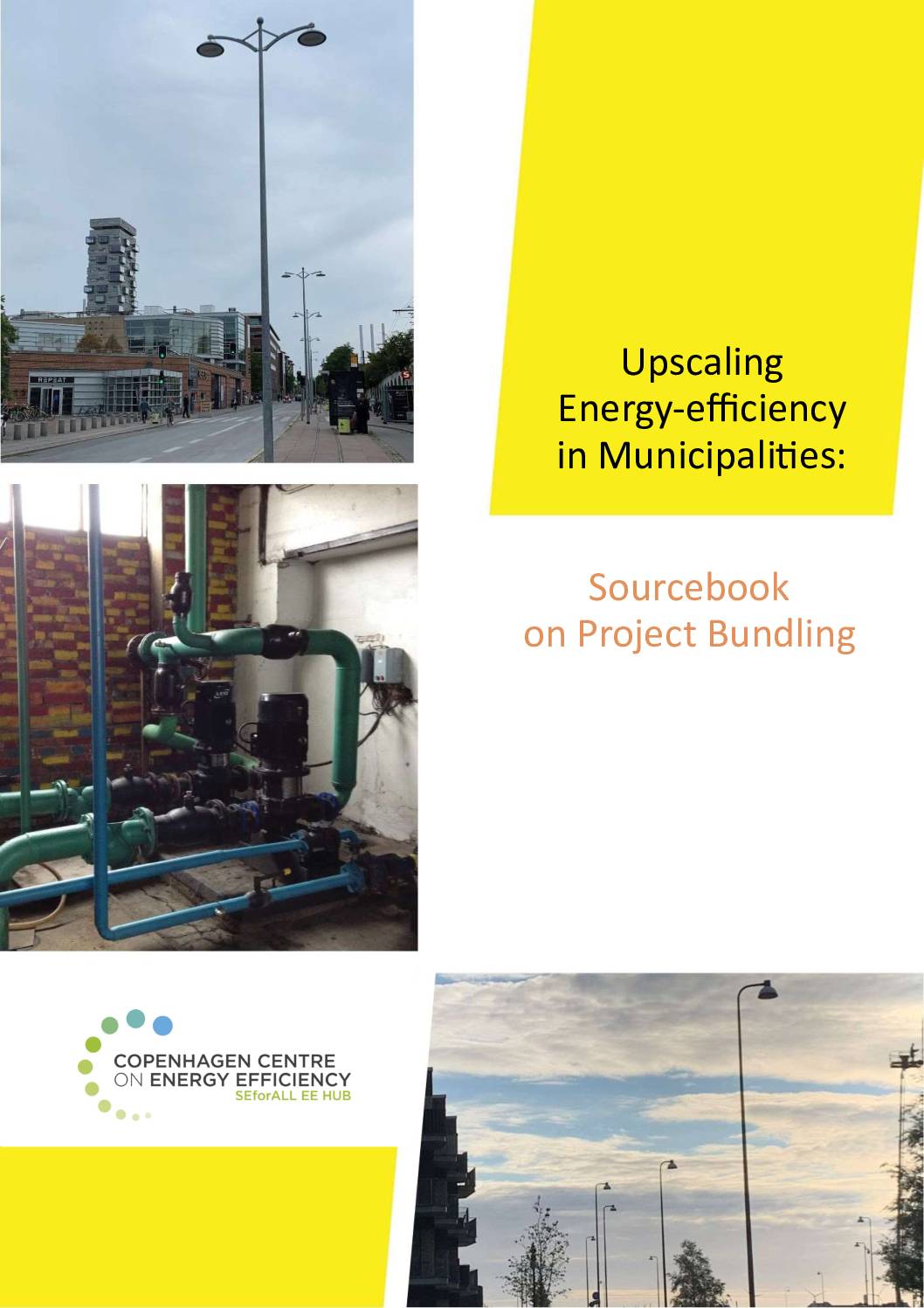 Sectors: Buildings, Finance, Lighting
Country / Region: Global
Tags
:
air pollution
,
carbon neutral
,
climate change mitigation
,
energy efficiency
,
implementation
,
local level capacities
,
pollution
,
projects
,
quality of life
,
sustainable development
,
United Nations
In 1 user collection: C2E2 Publications
Knowledge Object: Publication / Report
Published by: Copenhagen Centre on Energy Efficiency
Publishing year: 2020
Author: Jorge Rogat Casillo, Xianli Zhu, Clara Camarasa Hernando, Rahul Raju Dusa