These Guidelines aim to give direction to governments on designing and implementing sustainable public procurement (SPP) policies and action plans. The Guidelines and the associated UNEP's SPP Approach are hereon referred to as the "SPP Approach". The aim is to provide countries a common vision, language and framework for SPP and to guide stakeholders on how to effectively pave the way towards SPP implementation.
The SPP Approach was developed within the framework of the Marrakech Task Force on Sustainable Public Procurement (see Box 1). The SPP Approach has been tested in seven countries, which benefitted from the assistance of UNEP: Chile, Colombia, Costa Rica, Lebanon, Mauritius, Tunisia, and Uruguay. Implementing the SPP Approach in these countries provided an opportunity to collect lessons, establish best practices and improve the methodology for the design and implementation of national SPP policies and action plans.
The Guidelines are supported by a number of capacity building and training activities provided by UNEP, and an information platform and a network of organisations implementing SPP can be found at http://www.unep.fr/ scp/procurement/.
Link to resource
Download source
Share this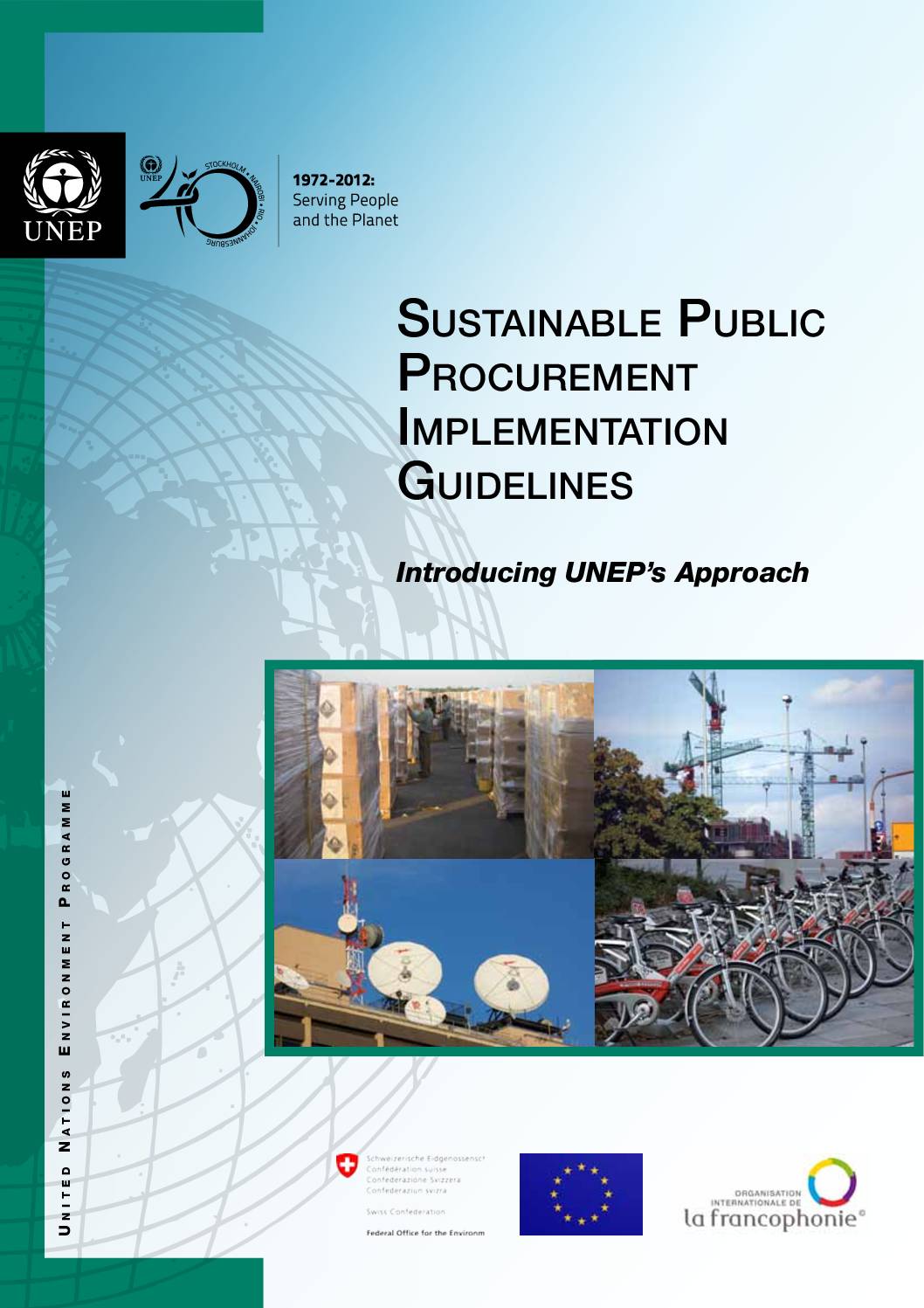 Sectors: Buildings, Cross cutting, Transport
Country / Region: Global
Tags
:
implementation
,
procurement
,
public procurement
,
purchasing
,
stakeholders
,
sustainable livelihoods approaches
,
sustainable production
In 1 user collection: Building Efficiency Accelerator: Procurement Resource Collection
Knowledge Object: Publication / Report
Published by: United Nations Environment Programme (UNEP)
Publishing year: 2012
Author: United Nations Environment Programme (UNEP)