The SMARTER Guidance Document for Property Evaluators (D2.10) assists the creation and development of Green Homes & Green Mortgages ('GHGM') programs for implementing partners of the SMARTER Finance for Families initiative (SMARTER) with wider application to the whole of Europe as ('GHGM') programs expand.
When banks entered the market for "Green Mortgages" and "Green Renovation Loans, a barrier was identified related to the need to modify standard real estate appraisal/valuation methodologies to consider the new approaches embedded in the design, construction or renovation, operation and decommissing or repurposing of buildings.
In countries with nascent green building markets, valuation professionals with credentials, applied knowledge of leading practices and demonstrated experience in green building valuations can be scarce. Further, market leading green building approaches and often lack the essential "comparables" to similar local conventional building projects whose sales prices, replacement cost and income capitalization approaches aren't directly comparable to green buildings due to technical features of green buildings that drive lower operating costs, lower environmental and financial risk, superior quality, stronger demand and are therefore a source of higher value specific and unique to green buildings.
While the quality and value differential between conventional and green buildings may be readily observed in certain markets with an adequate scope and scale of both green buildings and conventional buildings, the following "Green Homes Appraisal Toolkit" is intended to assist valuers in recognizing green buildings and value the individual technical green elements and the entire scope of green building practices bring in line with all the latest EU tools and relevant market best practices. It provides practical evidence relating to particular aspects of the valuation methodology for green buildings and emphasizes specific actions to be undertaken by valuers in order to assessment of the green character and value of the building realize an adequate valuation of green buildings.
This work benefited from a strong, existing relationship between the Romania Green Building Council (RoGBC), ANEVAR – The National Association of Romanian Authorized Valuers, Academia de Studii Economice din București – Academy of Economic Studies in Bucharest, and NAI Romania, a private real estate advisory firm specializing in the valuation of real estate. These partners had collaborated prior to the launch of the SMARTER Finance for Families Horizon 2020 project in May 2020 upon the request of RoGBC when the organization launched its Green Homes & Green Mortgage program in the Romanian market. The collaboration assisted the successful issuance of the first "Green" mortgages on the Romanian market as the involved experts were able to draw upon their understanding of green buildings, the related green building certifications, and "comparables" in similar markets to reach valuation levels and provide the necessary justification that was acceptable to the partner bank issuing those mortgages.
The SMARTER Finance for Families team selected the same consortium to develop a more formalized guidance document that has been shared with all partners to accelerate the necessary "Green" valuation capabilities in each implementing partner country. Additional expertise was provided by the Université Libre de Bruxelles and CRISCON, a building engineering consultancy focused on sustainable buildings, to review and provide additional content for the resulting document.
Download source
Share this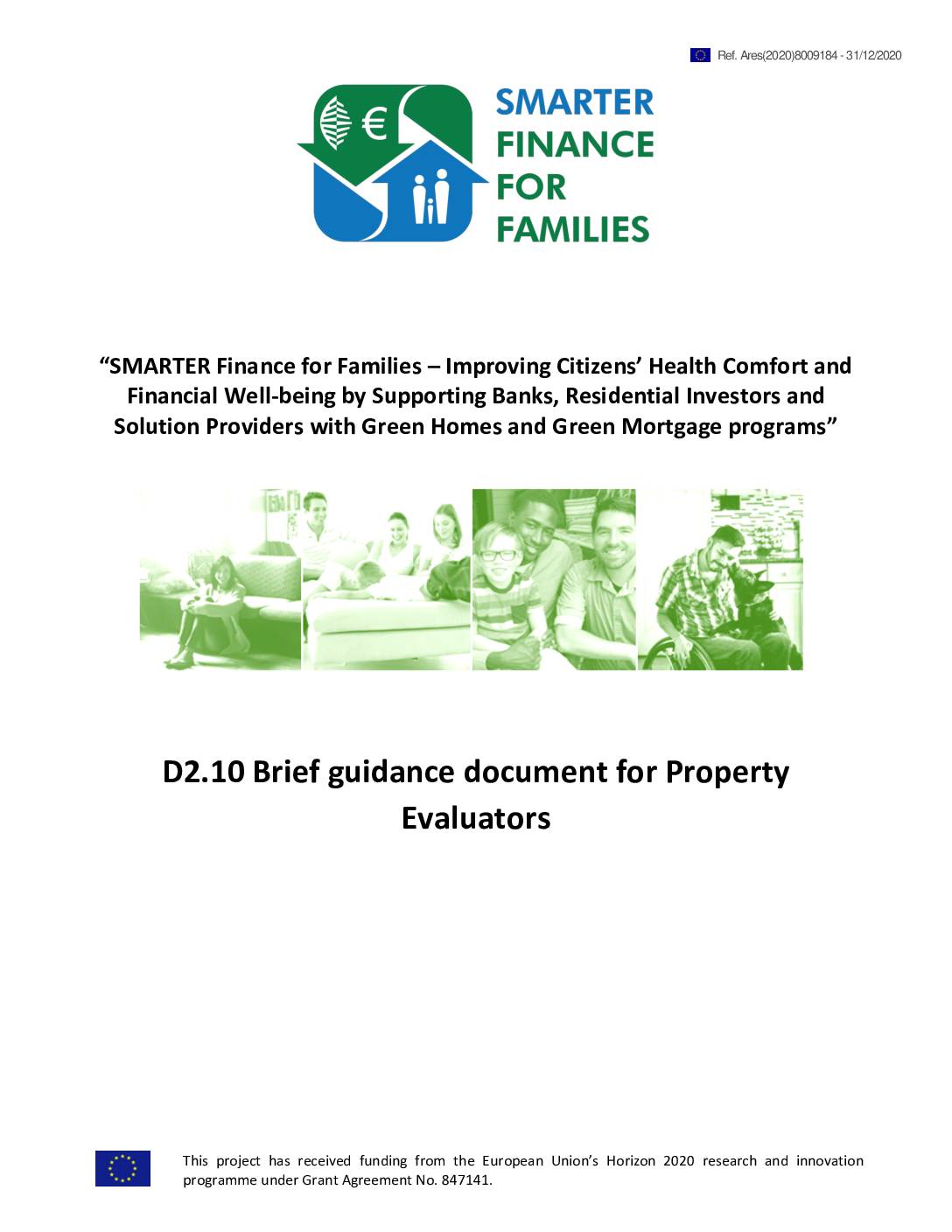 Sectors: Buildings, Finance
Country / Region: Europe
Tags
:
appraisal tools
,
assessments
,
Banks
,
best practice
,
citizens
,
drives
,
efficient construction of buildings
,
Industry Regulators
,
Institutional Investors
,
international development
,
loans
,
National Regulators
,
projects
,
risks
,
SMARTER
,
Supranational Regulators
,
sustainable livelihoods approaches
In 5 user collections: Green Home Investment Platform – Industry Regulators , Green Home Investment Platform – National Regulators , Green Home Investment Platform – Supranational Regulators , Green Home Investment Platform – Institutional Investors , Green Home Investment Platform – Banks
Knowledge Object: Web Resource
Author: SMARTER Finance for Families: Ababei, Dana MRICS (ANEVAR - The National Association of Romanian Authorized Valuers); Anghel, Ion Ph.D. FRICS (Academia de Studii Economice din București – Academy of Economic Studies in Bucharest); Botiș, Andrei MRICS, Andreea Semenescu Ph.D.; Huidu, Sorin (NAI Romania); Paez, Camilo (ULB); Cristoforetti, Sebastiano (CRISCON); Kronmiller, Ted (RoGBC)