Transforming societies into sustainable models of production, consumption and prosumption is a key challenge of the current century. In addition to changing behavior at the individual level, transformation at the systemic level through collective action is required to address the challenges of existing energy systems, as collective action has been a historically successful driving force for social transformation.
Through Energy Community initiatives, the energy system is transformed from a centrally coordinated fossil fuel-powered system to a bottom-up decentralized low-carbon system. Energy Communities create new roles for citizens and local communities, placing them at the heart of the energy system. Citizens' acceptance, support and participation are essential for the successful management of these ongoing energy transformations.
Three key approaches to the analysis of Energy Communities can be identified: micro-level processes, social acceptance and institutional conditions. Regarding the micro-level examination, the relevant work focuses on the factors that can determine the creation and development of Energy Communities, the factors that can lead citizens to participate and to invest in such initiatives. Despite the efforts made to describe these initiatives, these processes have not been thoroughly studied. There are a small number of studies that present quantitative empirical data on the intention of citizens to participate and invest in such initiatives, as well as the motives and other factors that can affect their decisions.
The present paper is part of a project focused on the examination of the institution of Energy Communities in Greece, with the aim of innovating in research by examining new research questions regarding Energy Communities at their micro-level. Specifically, the purpose of this project is to investigate the views and behavior of citizens regarding information, participation and investment in the Energy Communities, as well as to address relevant issues (motives, barriers, incentives, structures, etc.) which have not been explored in the past. In this context, the present work presents the results of the performed literature review, which focused on the identification, organization and assessment of the available findings relevant to the above-mentioned themes.
Download source
Share this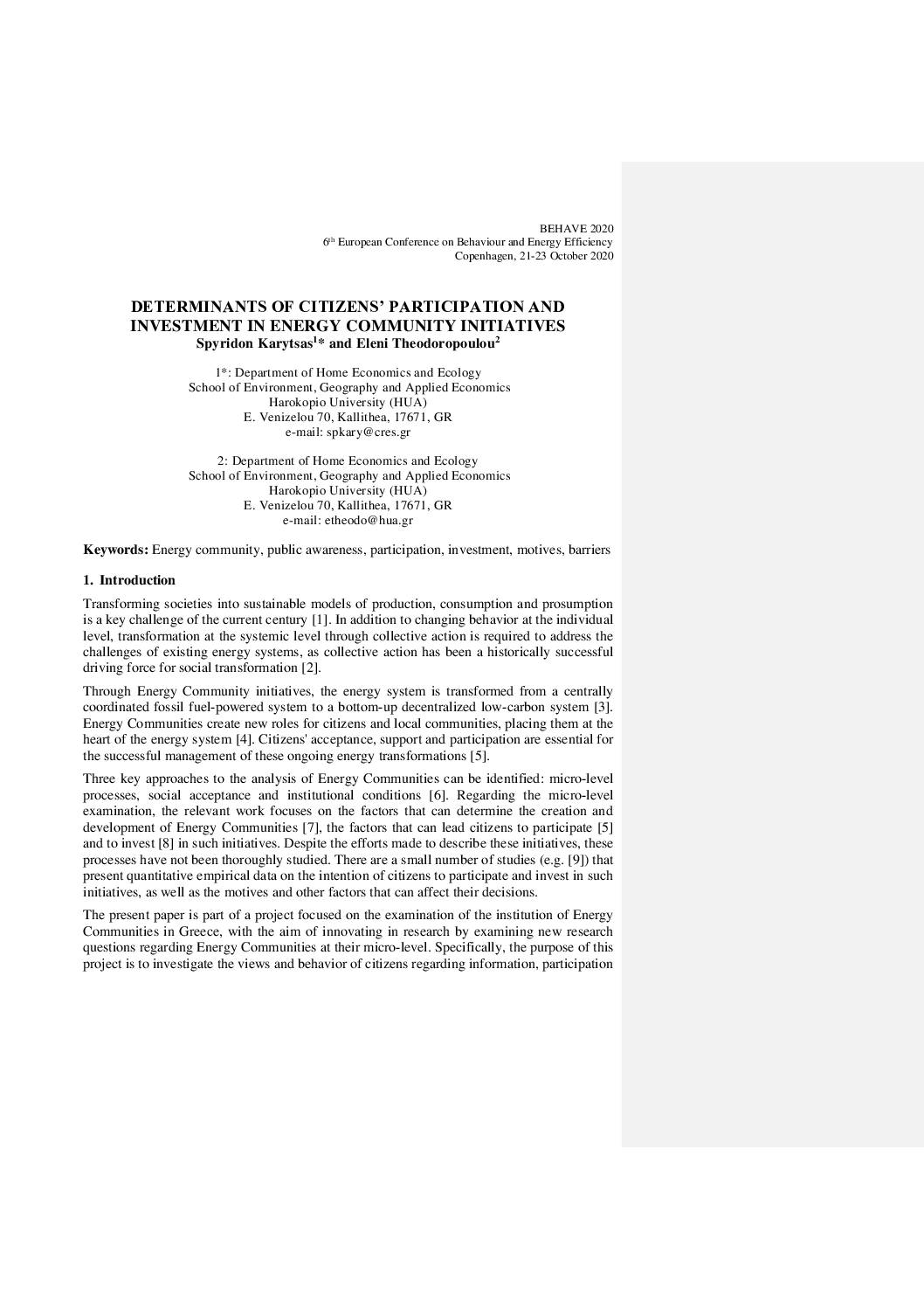 Sectors: Cross cutting, Power sector
Country / Region: Global
Tags
:
assessments
,
citizens
,
drives
,
energy
,
energy conversion
,
fossil energy
,
incentives
,
local communities
,
participation
,
projects
In 1 user collection: Session 6a: Energy Communities and Related Behaviour Strategies to Energy Efficiency
Knowledge Object: Publication / Report
Author: Spyridon Karytsas, Eleni Theodoropoulou
Content: