As 3D televisions have become more prevalent in the global market, there is growing interest in assessing the power consumption of these TVs when displaying 3D content.
In August 2013, the Super-efficient Equipment and Appliance Deployment (SEAD) Initiative published a report analyzing the differences in power consumption of 3D TVs when displaying 2D and 3D content and what variables may affect the energy impact of 3D TVs. 
A previous 3D TV study from the Consumer Electronics Association (CEA) speculated that a cause of increased power in 3D could be a brighter screen to compensate for the dimming effect of 3D glasses. However, the study determined that more data was needed for both 3D TV consumption and 3D viewing in order to draw a more robust conclusion.
In this study, twelve 3D TVs were selected for testing based on technology characteristics in order to include different combinations of TV variables. During testing, different configuration and usage variables were explored for their impact on 3D TV power.
The study concludes that:
After controlling for the usage variables, the percent difference in power consumption between 2D and 3D ranged from a decrease of 19% to an increase of 72%;
While in some cases power consumption decreased, ten out of twelve TVs tested exhibited an increase in power consumption from 2D to 3D;
The degree to which the TV increased in power was widely dependent on the screen size and screen technology of the TV;
Contrary to CEA's previous conclusion, this research does not find luminance to be the major factor affecting overall 3D TV power consumption;
Additionally, the research finds that the 3D technology of the TV, active or passive 3D, has little to no impact on the differences in power consumption between 2D and 3D.
This report was authored by Navigant Consulting Inc. in support of the SEAD Initiative.
Link to resource
Download source
Share this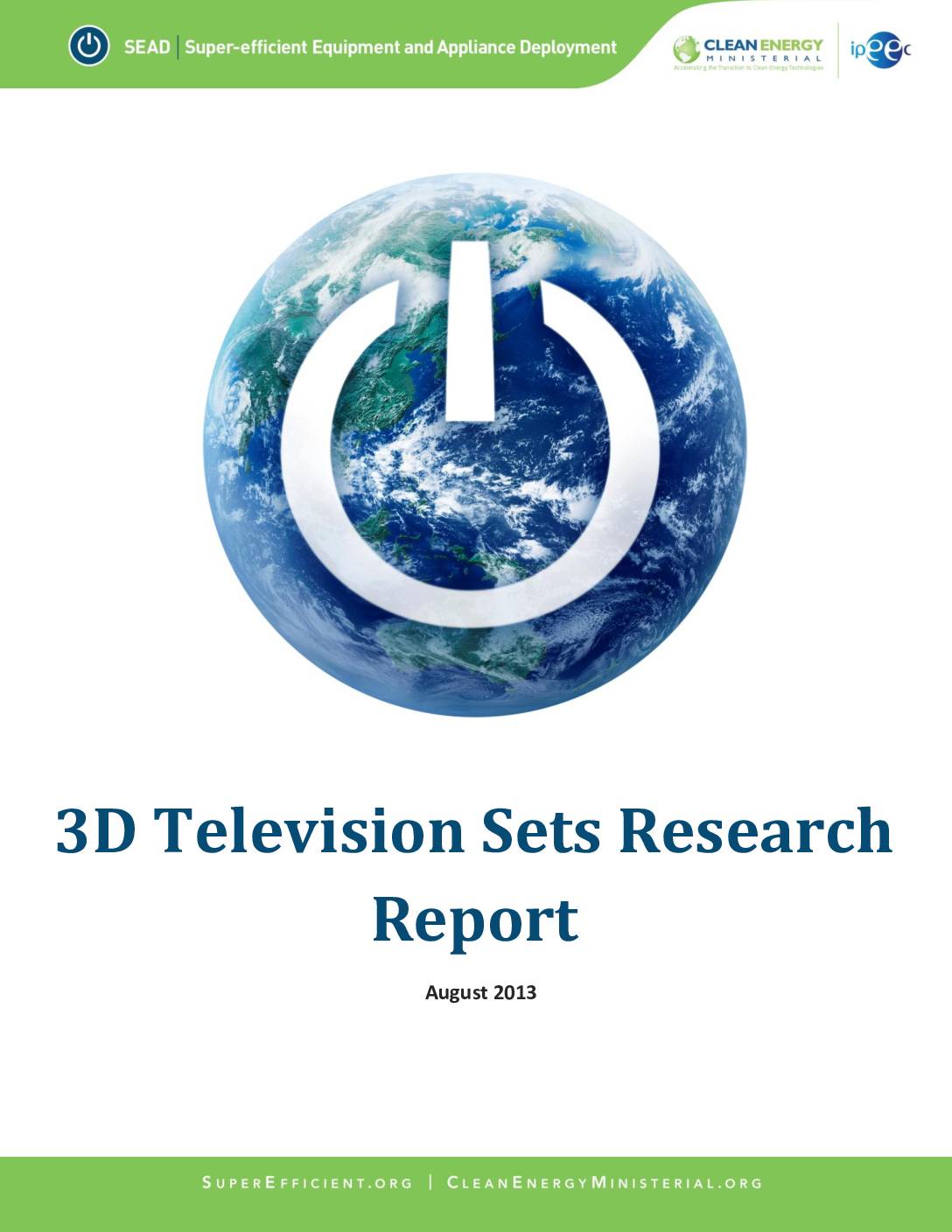 Sectors: Equipment and appliances, Renewables
Country / Region: Global
Tags
:
climatological variables
,
corporate reporting
,
cost effectiveness analysis
,
economic variables
,
energy
,
impacts on systems and sectors
Knowledge Object: Publication / Report
Published by: SEAD, CEM, IPEEC
Publishing year: 2013
Author: Anthony Rotolo, Kevin Morrissey, Allen Tsao