The Super-Efficient Equipment Program (SEEP), a national initiative of India's Bureau of Energy Efficiency (BEE), is preparing to administer a new endorsement label to highly efficient appliances in India. The new "Super Efficient Appliance" (SEA) label will indicate to consumers that the labeled product is significantly more efficient than others on the market – including products that already display BEE's 5-star comparative label or the BEE endorsement label. The label will first be applied to ceiling fans, and later to air conditioners. Ceiling fans account for about 70% of all fans on India's market and will consume over 8 TWh of energy in 2014. SEEP will provide financial incentives to manufacturers who produce ceiling fans that meet the specifications of the SEA label; specifically, the product must consume 30-50% less energy than a typical ceiling fan while delivering the same level of comfort to consumers.
In support of SEEP, CLASP and Market Xcel Data Matrix conducted a pan-India survey including consumers, manufacturers, policymakers, retailers, and energy consultants. Drawing on cues from 1985 interviews and 22 focus group discussions, the project team developed several prototypes with the objective of creating a label that would be appealing, understandable, effective in promoting the purchase of super-efficient products, and complementary to BEE's existing energy labels.
A group of stakeholders including the World Bank, Prayas Energy Group, and the Shakti Sustainable Energy Foundation were also consulted on the findings of the first phase of focus groups, and designs were adjusted according to their feedback.
Link to resource
Download source
Share this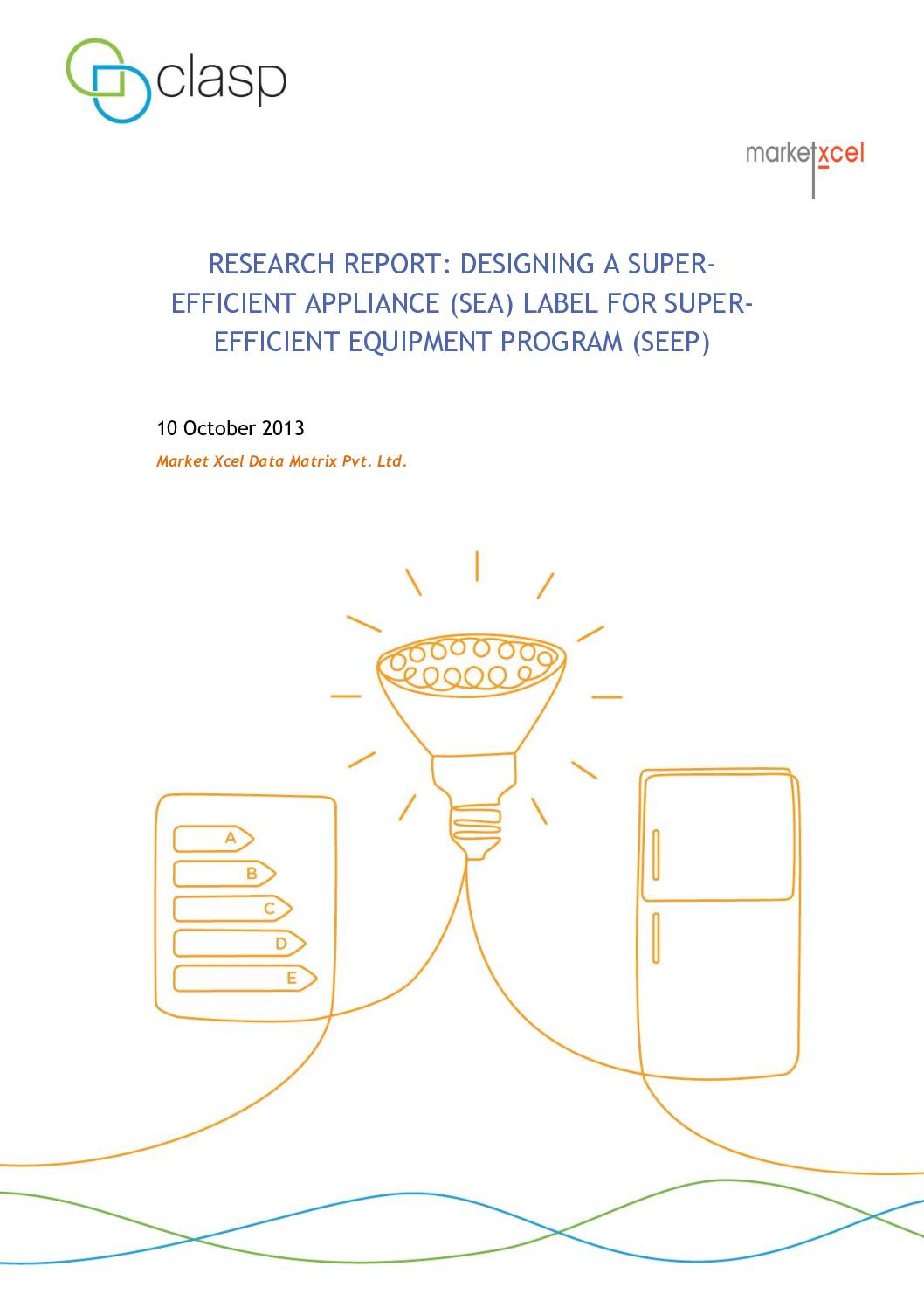 Sectors: Equipment and appliances, Renewables
Country / Region: Asia, India
Tags
:
corporate reporting
,
efficiency labelings
,
efficient appliances
,
endorsement labels
,
energy
,
energy efficiency
,
energy input labelings
Knowledge Object: Publication / Report
Published by: CLASP
Publishing year: 2013
Author: Market Xcel Data Matrix Pvt. Ltd.