The energy transition calls for rational use of all forms of energy, and resulting energy savings must be credibly validated with recognized Measurement and Verification (M&V) techniques. This is particularly important for projects performed under the Energy Performance Contracting (EPC) business model. M&V activities are at the core of Energy Efficiency (EE) projects realized by Energy Savings Companies (ESCOs). Furthermore, the M&V process must follow a structured framework that allows repeatability and adequate validation of the energy savings.
The world's most reckoned M&V framework is the International Performance Measurement and Verification Protocol (IPMVP), first published in 1996 by the Efficiency Valuation Organization (EVO) www.evo-world.org. The strength of the IPMVP lies in its flexibility. Indeed, it offers four different options that can be used based on the context of each project: two focusing on measuring specific and isolated Energy Conservation Measures (ECM), and two on the impact of multiple ECMs on the building as a whole. M&V is as much a science as it is an art. It cannot be automated or otherwise be reduced to ticking predetermined boxes into a checklist.
An EPC requires that all stakeholders (clients, ESCOs, financing parties) have trust that the evaluation of the savings on which the payments are based is valid and accurate. Contrary to what is often believed, M&V in the context of an EPC project can be done by any party that has the expertise to do so. Often in EPC projects, project's M&V is done by the involved ESCO and subsequently validated by the facility owner. Alternatively, it can be performed by an indepedant third party. Indeed third party may be helpful to ensure agreement of measurement validity. But regardless of who does the M&V, only skilled and educated experts can play a meaningful and valuable role within an EPC project.
Download source
Share this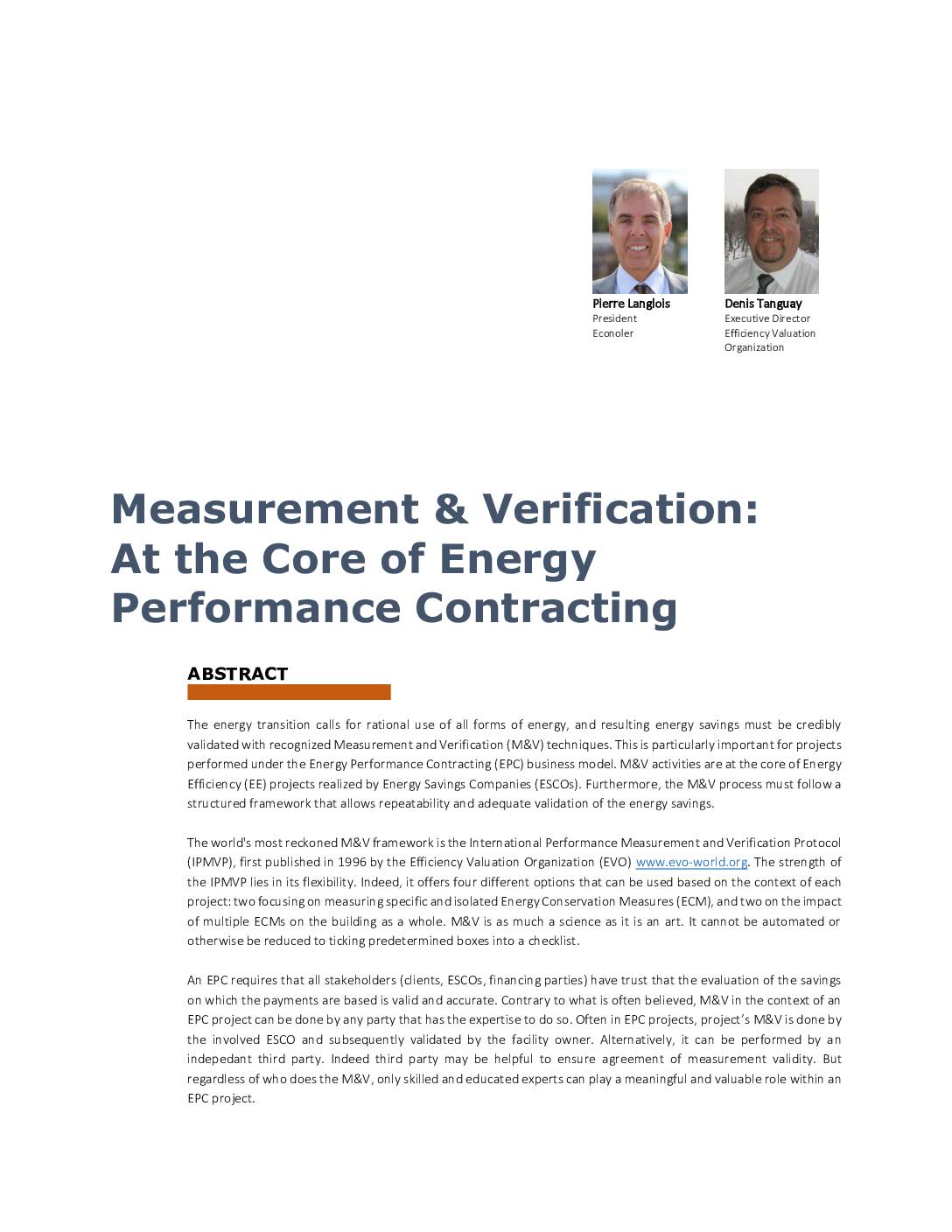 Sector: ESCO
Country / Region: Global
Tags
:
energy
,
energy efficiency
,
energy savings
,
energy service companies
,
ESCO
,
performance contracting
,
program evaluations
,
projects
,
specific financing mechanisms
,
stakeholders
In 1 user collection: Measurement & Verification
Knowledge Object: Publication / Report
Publishing year: 2021
Author: Pierre Langlois, Denis Tanguay