This document contains the highlights from the high-level roundtable organised in the framework of the RenoValue project. The event took place at the European Parliament, in Brussels, Belgium, on 26 January 2016, providing the opportunity to discuss how policy makers can strengthen the role of property valuers as drivers of the market transition towards sustainable buildings.
The use of property valuation is an essential aspect of the property lifecycle: that is why encouraging energy efficiency and renewable energy needs to start here. To accelerate the market transition towards nearly Zero-Energy Buildings, it is essential to demonstrate the business case for and the value of sustainable buildings to prospective buyers, sellers, lenders and investors.
The event's highlights reported in this document include the following:
There is an emerging empirical evidence from an increasing number of markets that sustainable buildings not only perform better in terms of energy efficiency but also financially.
According to the findings of RenoValue, most of the challenges which valuation professionals face when integrating sustainability in their valuation practices are a direct result of a lack of transparency in their respective markets.
Consequently, RenoValue recommends EU and national policy makers to consider developing and enforcing regulatory and/or fiscal policies that will help improving market transparency. In particular it addresses the lack of a systematic consideration of energy efficiency and renewable energy and other sustainability aspects in property valuation.
Buildings must be considered as an integral part of the energy system of the future. The priority is not only to reduce energy demand in buildings, but to allow buildings to generate power themselves, actively participate in the smart grid, be involved in DR systems and contribute to district heating systems.
Renovation needs a boost. Different ownership structures and split incentives are barriers that the European Commission has to address also under a financial perspective.
Link to resource
Download source
Share this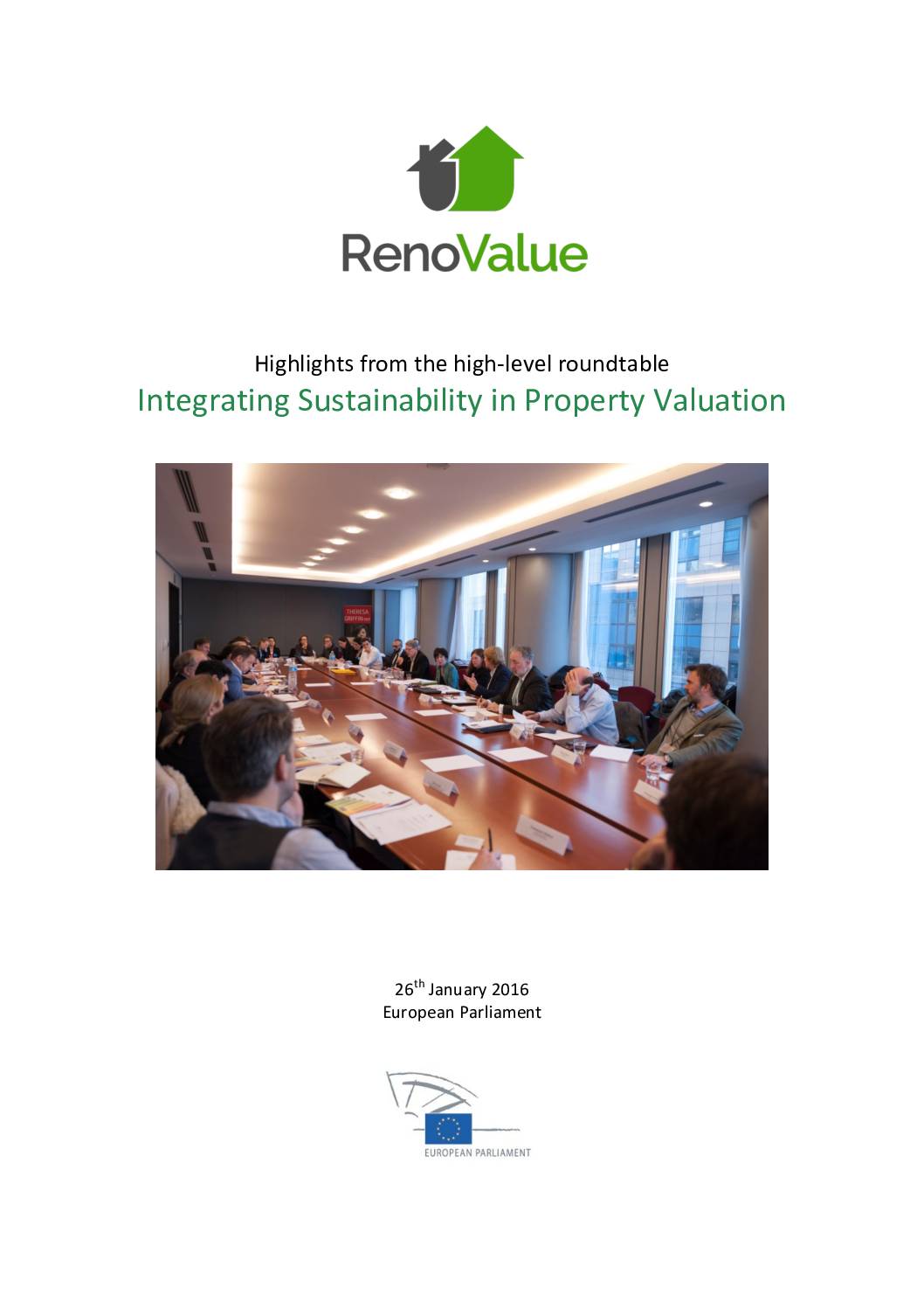 Sectors: Buildings, Cross cutting, Equipment and appliances, Power sector, Renewables
Country / Region: Belgium, Europe
Tags
:
building types
,
energy
,
energy efficiency
,
national policies
,
projects
,
renewable energies
,
sustainability
,
transparency
Knowledge Object: Publication / Report
Published by: European Parliament
Publishing year: 2016
Author: Business Solutions Europa