One year ago, we published our first white paper on energy efficiency finance with the twin objectives of introducing the subject to those for whom it was new, as well as discussing the principal concepts and methods for implementing energy efficiency finance with those already steeped in the subject or about to enter the market. That first primer remains a good starting point for anyone unfamiliar with energy efficiency finance. The purpose of this edition is to continue the conversation and, in particular, to examine where we are, what we have done, and where we are going.
Again, for anyone new to the subject of energy efficiency finance, we highly recommend starting with our 2012 white paper.
In this 2013 edition, we will begin by updating our overview of the following energy efficiency finance models, taking into account significant developments in the past year:
the energy savings performance contract (ESPC) model implemented by an energy service company (ESCO), and applying the real estate investment trust (REIT) structure to energy efficiency finance;
the energy or efficiency services agreement (ESA) model;
the managed energy services agreement (MESA) model;
the Property Assessed Clean Energy (PACE) model;
on-bill financing and on-bill repayment (OBF/OBR) approaches; and
the Warehouse for Energy Efficiency Loans (WHEEL) structure.
While many other energy efficiency finance options also exist, these models continue to be among those attracting significant interest from both private-sector and public-sector stakeholders. As such, we will also discuss the main challenges, legal considerations, and opportunities associated with scaling and deploying these six models in the current business and legal environment.
We will also briefly examine evolving efforts to apply additional financing techniques that have attracted renewed attention—such as crowdfunding, securitization, master limited partnerships (MLPs), and REITs—to energy efficiency finance.
Link to resource
Download source
Share this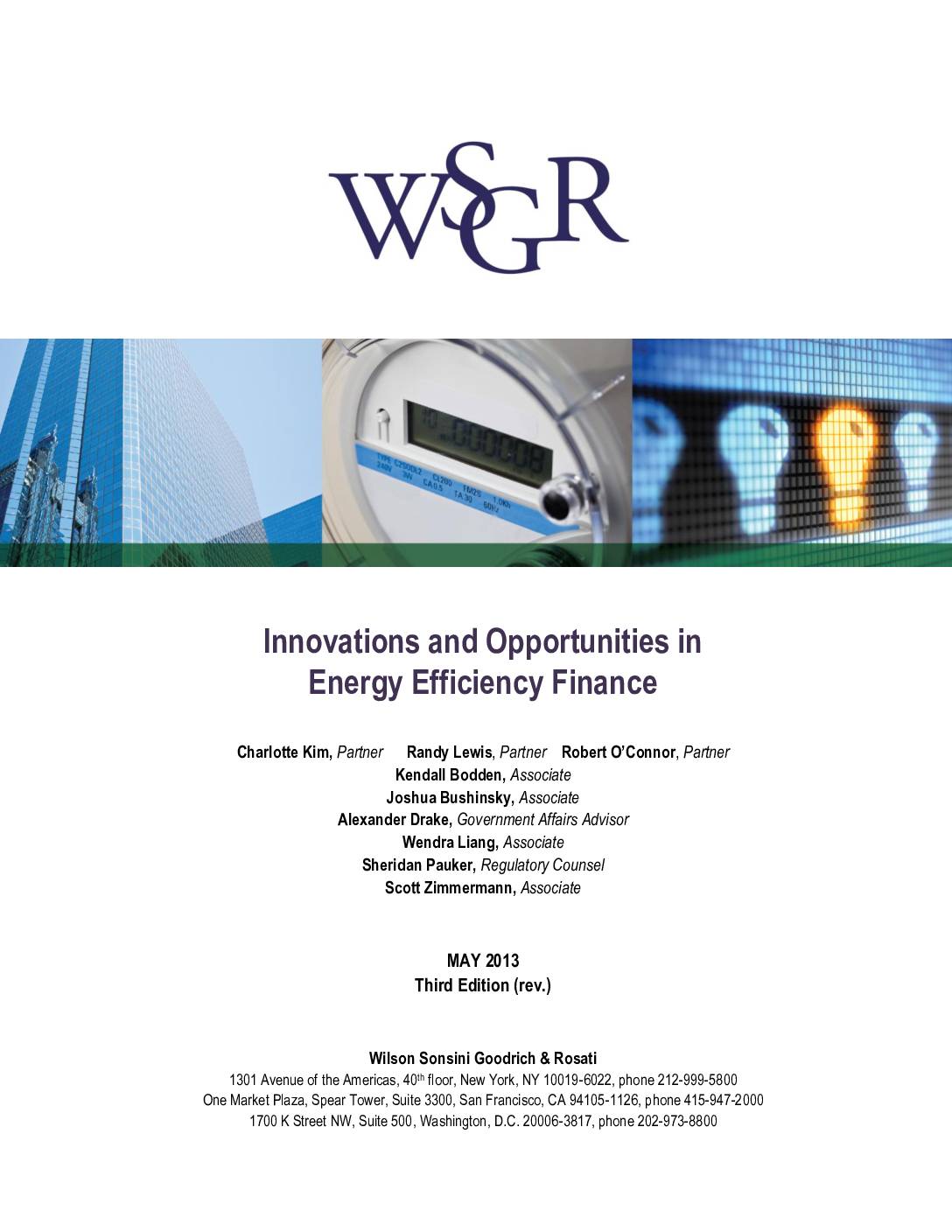 Sectors: Buildings, Cross cutting, Finance, Industry, Power sector, Renewables
Country / Region: Global
Tags
:
building sectors
,
building types
,
commercial buildings
,
energy
,
energy efficiency
,
innovation
,
residential buildings
,
specific financing mechanisms
In 1 user collection: Building Efficiency Accelerator: Finance Resource Collection
Knowledge Object: Publication / Report
Published by: Wilson Sonsini Goodrich & Rosati
Publishing year: 2013
Author: Wilson Sonsini Goodrich & Rosati