Podpora výstavby šetrných budov prostřednictvím důvěryhodného, nákladově efektivního certifikačního programu představuje příležitost pro rezidenční investory a developery rozlišit kvalitu a environmentální aspekty jejich stavebních projektů a zároveň vzdělávat spotřebitele o finančních a jiných výhodách. Finanční instituce – poskytováním zelených hypoték vázaných na certifikované šetrné budovy – mohou výrazně snížit riziko hypotečního selhání a zvýšit oceňování aktiv domů, které financují, a proto mohou nabízet nižší náklady na financování. Nižší finanční náklady poskytují kupcům nemovitostí větší kupní sílu investovat do zlepšené kvality výstavby, protože zelená hypotéka má ocenit významné snížení nákladů na energii, opravy a zdraví těch, kteří šetrné budovy kupují. Zelené hypotéky rovněž mohou pomoci trhu lépe ocenit přidanou hodnotu takové půjčky tak, aby mohl správně investovat na začátku.
Tato iniciativa vytváří konsorcium mezi bankami, investorem / developerem, klientem a Českou radou pro šetrné budovy k certifikaci ekologických rezidenčních projektů, které jsou šetrné vůči životnímu prostředí, energeticky efektivní oproti standardní nabídce a přináší finanční, sociální a environmentální benefity. Zvýšené úspory energie a další finanční výhody (jako je zlepšení kvality vnitřního prostředí a nižší náklady na opravy a údržbu domů, podstatně snižují riziko selhání hypotéky, což umožňuje snížit měsíční úrokovou sazbu. To umožňuje kupci investovat do energeticky efektivnějšího a šetrnějšího bydlení a zároveň snížit celkové měsíční náklady ve srovnání se standardním bydlením (tzv. monthly costs of ownership).
Zavedení takového finančního produktu je velmi aktuální v souvislosti se současnými podmínkami na trhu a evropskými směrnicemi, které vyžadují posun směrem k budovám s nulovou spotřebou energie, významně sníženému stavebnímu odpadu a snížené toxicitě stavebních materiálů, jak pro všechny nové, tak stávající budovy. Rostoucí obavy o energetickou bezpečnost a výhledově rostoucí náklady na energii podporují takové rezidenční projekty, které k výstavbě a provozu vyžadují méně nákladné a obnovitelné zdroje. Výstavbou certifikovaných šetrných budov mohou investoři a developeři výrazně usnadnit transformaci stavebního a realitního průmyslu směrem k nízkouhlíkové / šetrné ekonomice.
Projekt je podporován Generálním ředitelstvím Evropské komise pro energetiku (DG Energy). Rovněž je v popředí sladění certifikací šetrných budov s rámcovou politikou Generálního ředitelství pro oblasti životní prostředí, aby zahrnovaly hodnocení uhlíku / životního cyklu a vedly k oběhové ekonomice. Projekt je realizován Českou radou pro šetrné budovy a je podporován předními akademickými institucemi v dané oblasti, včetně Université Libre de Bruxelles a Kodaňského centra pro energetickou účinnost. Partnerství je uzavřeno v rámci Programu OSN pro životní prostředí a Dánské technické univerzity.
Download source
Share this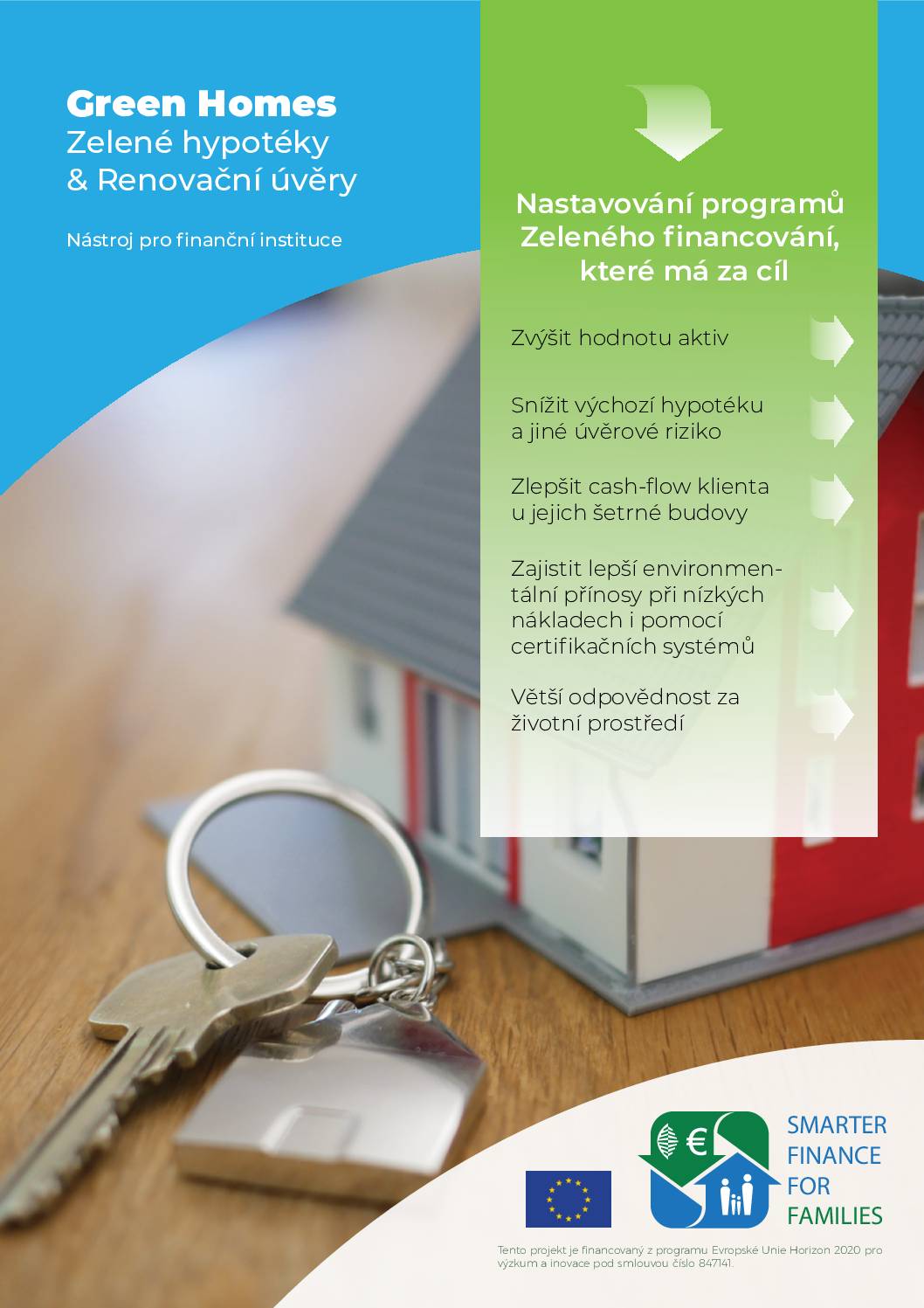 Sectors: Buildings, Finance
Country / Region: Czech Republic
Tags
:
economic cost
,
energy
,
financial institutions
,
SMARTER
In 1 user collection: Green Mortgages & Green Renovation Loans: A Toolkit for Financial Institutions
Knowledge Object: Publication / Report
Published by: Czech Green Building Council (CZGBC)
Publishing year: 2020