A magazine dedicated to energy efficiency for COP22. The publication gathers articles from high-level experts on energy efficiency such as U.S. Secretary of Energy Dr. Ernest Moniz, IPEEC Executive Director Mr. Benoît Lebot, CEO of Morocco's Energy Efficiency Agency Mr. Saïd Mouline, and many others.
Contents
Intro
07: Energy eciency is the cheapest and fastest pathway to reducing greenhouse gas emissions – Said Mouline CEO AMEE
08: International energy eciency cooperation and the G20 – Benoit Lebot, CEO IPEEC – Energy eciency is for everyone
09: Improving Manufacturing through Technology and Innovation by His Excellency Ernest Moniz US Secretary of Energy
10: Energy eciency rst: the spine of EU energy policies – Maroš Šefčovič – Vice-President of the European Commission, in charge of Energy Union.
​Geographical Area
Morocco 12: TheCOP22 assesses its greenhouse gas footprint with the Mohammed VI Foundation for Environmental Protection.
Morocco 14: Interview with Mrs BENSALAH CHAQROUN MIRIEM, President of the moroccan employers association CGEM (General Confederation of Moroccan companies)
Morocco 16: International Energy Eciency Initiative (IEEI)
Africa 18: Energy eciency in Nigeria: bridging the energy demand and supply gap" by Etiosa Uyigue, Community Research and Development Centre, Nigeria
Africa 19: The success story of the Energy Eciency Drive in Ghana – the case of Ghana – Ko Agyarko – Head of Energy Eciency and Climate Change Division Energy Commission – Ghana
North-America 20: "The role of energy eciency in meeting energy access goals" by Rose Mutiso, U.S. Global LEAP lead – US State Department of Energy
North-America 21: Governments working together to save energy by Tracey Crowe, Clean Energy Ministerial Secretariat, USA – US State Department of Energy
European Union: Trust and cooperation are key to energy eciency: An interview with IPEEC's new Chairman TUDOR CONSTANTINESCU –Principal Adviser to the Director General for Energy, European Commission
Asia 27: IRENA's REmap analysis shows that the two pillars to decarbonise the global energy system are renewable energy and energy eciency
Asia 28: Deepening energy eciency cooperation and seeking green development by Dai Yande, Director General, Energy Research Institute (ERI) of the National Development and Reform Commission (NDRC), China
Asia 30: Strengthening G20 energy eciency cooperation to lead the transformation of global development – Ren Shuben, Director General, National Development and Reform Commission (NDRC), China
Actors
Intrnational Institutions 32: Energy eciency has been and will be key to a low carbon transition – Brian Motherway, Head of Energy Eciency at International Energy Agency (IEA)
Intrnational Institutions 33: District energy: a tried-and-tested energy ecient solution to modern urban energy problems – UN Environment Program (UNEP) Lily Riahi, Sustainable Energy in Cities Advisor, UN Environment Programme
Intrnational Institutions 34: Energy productivity rst: the SEforAll Energy Eciency Accelerator Platform – UN – World Bank : Sustainable Energy For All 
NGO's 36: How much does energy eciency cut the costs of a 2-degree future? – Dan Hamza-Goodacre, Director – Climate Works
NGO's 38: Doubling Energy Productivity: The Path to Achieving Paris Goals – Kateri Callahan, President, and Karen Hughes, Senior Program Manager of International Policy, Alliance to Save Energy
NGO's 40: How to score investments to achieve Paris goals? CarbonCount gets you there – Kevin Lucas, Director of Research, Alliance to Save Energy
NGO's 42: Energy Eciency and the RINGOs, Research and Independent NGOs – Yves Marignac, négaWatt Association, RINGOs representative at COP21
Innovations
R&D 44: Lithium ion batteries for ecient energy storage system application – Rachid Yazami – Energy Research Institute (ERIAN)- Draper prize winner – Nanyang Technological University, Singapore
R&D 45: New Study Reveals Options to Replace Global Warming – Causing Chemicals Used in Air Conditioning – David Nemtzow – Building Technologies Oce Director – US State Department of Energy
R&D 46: Lighting the world with 10 billion LED bulbs: the CEM Global Lighting Challenge – Chad S. Gallinat, U.S. Global Lighting Challenge, USA – US State Departement of Energy
R&D 47: Passive Systems for Buildings Air Refreshment in Marrakesh Region: the RafriBAT research Project – By Pr Brahim Benhamou from the Cadi Ayad Marrakesh University
Legal 48: Energy eciency Law in Morocco – Fedwa Bouzoubaa – Business lawyer at Casablanca – LL.M. Degree in European Law at Lausanne University
Financial tools 49: PACE Adds Market Value for Home Energy Upgrades – Dr. Kathleen Hogan – Deputy Assistant Secretary for Energy Eciency – US State Department of Energy
Link to resource
Download source
Share this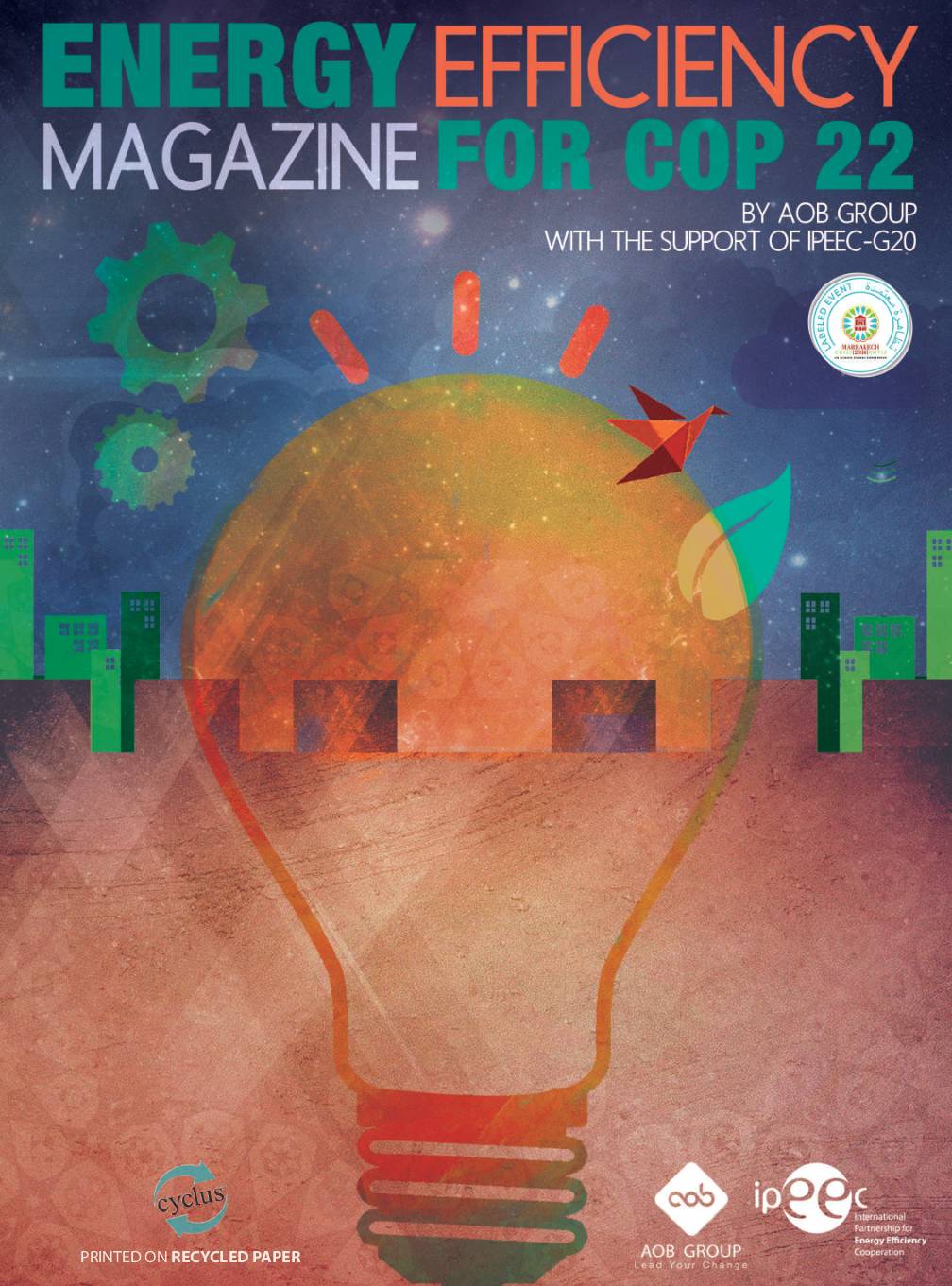 Sectors: Cross cutting, Industry
Country / Region: Africa, Europe, France, Ghana, Global, Nigeria, Northern America, Switzerland, United States
Tags
:
energy
,
energy efficiency
,
international development
Knowledge Object: Publication / Report
Published by: IPEEC, AOB Group
Publishing year: 2016
Author: IPEEC, AOB Group